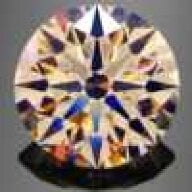 Joined

Jan 26, 2009
Messages

360
Date: 3/13/2009 7:42:13 PM
Author: Chrono
I looked all over and did not see what''s the current carat weight and dimension. Seriously, the colour now is fantastic and the cutting not to shabby. If it''s a large stone and the loss is quite a bit, I would opt to leave it as it is. I love that soft velvety look. Are you willing to risk obvious zoning in addition to paying to get a smaller stone?
Hi Chrono, sorry for leaving out the important stuff.

The stone is currently 2.58 carats and about 7mm - Jeff estimates it will end up about 2-2.3 carats and about 6.5mm or so.
I really love the color but part of me is lusting to see what the stone would look like without the extinction. I don''t really see a ton of zoning in the stone now but Jeff wanted me to be aware that once the facets are more symmetrical, the slight zoning could be more apparent.
Honestly, I have no experience with colored gems and part of me wishes I''d never stumbled across Pricescope as I wouldn''t be obsessing over tiny little rocks all day!
Diana