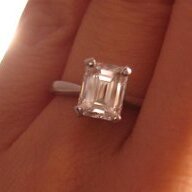 Joined

Dec 16, 2008
Messages

321
Hey...so today was my first ring shopping day. I anticipate plenty more shopping days, and I''ll let you guys know how each day went. Let me tell you, it was so much more fun going with a BF than with a friend. I''ve only looked once prior to today, and that''s because I couldn''t really get into it when I was with my girlfriend. I loved getting my BF''s opinion on the rocks. Plus, I was more into it because he and I are seriously looking and on the same page as far as the relationship goes, so it made the day really fun.
FYI, the ring we are looking for is G/VS2/1.4-2.0 CT, Emerald cut solitaire. Yes, the range is wide, but I explain why below.
We started out at Tiffanys. Let me tell you - it was empty in there. The economy has really taken a toll on its customers because on another year, the place would have been packed on a Saturday. Anyway, I tried on 3 different rings 1.61 E/VS1, 1.61 F/VS, and 1.71 H/VVS1. I gotta say - I am not really into the emerald cut setting at Tiffanys. I don''t like how the setting has a little curved up look towards the diamonds. We weren''t seriously looking there anyway. It''s way too overpriced for us and because they don''t give you any other stats besides the carat, color and clarity, I feel like I''m making judgements based on incomplete information. Oh...all those rings were 25K and up too. Way out of our budget.
The diamond district is an interesting place. We only met with two vendors, and I found that the experience really depends on the person you work with. I''ve heard that you need to learn how to adjust to the attitudes in the diamond district (even for New Yorkers like us) when you shop....and after today, I will be prepared.
The first guy we worked with looked to be in his early 20''s and was a bit hostile in the beginning. You know how Tiffanys cleans their rings by rubbing it on the fabric/tray they lay the rings on? I did the same when I was at the this particular place (it had smudges all over it) and I said "do you mind?" and he said "yes, i do mind" in a bit of a jerky way. I think right then and there...I decided I didn''t want to buy from him. I wasn''t exactly rubbing the ring against cement but I will never do that again since the fabric trays are not the same everywhere. The ring we saw was beautiful!!! It was a G/VS2/1.43 ct,
62/62/no cutlet or florescence. Anyway....he knew we liked the ring and tried to get us to buy it then and there...but we said no. It was our first day shopping so we weren''t about to make any rash decisions. I like how you can negotiate though.
The second place we went...we really liked the place. The guy was old school and really honest with us. People usually start out feeling you out and then open up. He was telling me that I''m the worst type of customer - because I have all the stats in mind and if we are a bit off, I may become difficult. lol. He was like "I miss the old days when diamond rings were about romance, not statistics.". I told him to blame it on the internet and how information is widely available. We are all much wiser consumers about big purchases like this. He only had rings already set, so we have to go back when he does his research
and tells us what''s available. Actually, the next few places we go to will be all "by appt".
I decided after today that I will only look for 1.4 carats and 1.7 and above. There is no point getting (around) 1.5, because that is the mark where the price jumps (a 1.50 we looked at was $2000 more than a 1.43 we looked at, just because it was at that "mark". Ironically, we all agreed the 1.43 looked a lot bigger than the 1.5, probably because it was more well cut). Since anything up to 1.6 is similar in size to 1.5, no point in looking around that range either. It has to be much bigger. Based on the rings i looked at (and the budget my BF gave me....his exact words are "you know what the budget is. you figure it out within that range") I think I should be able to get something in the 1.75-1.8 range. Because why use up the entire budget if he''s fine with that?

I didn''t take any pix, but I have a little notebook with stats of every diamond we looked at. This is going to be our little engagement memory book.
Enjoy the weekend, everyone! I have to go study for my midterms now.