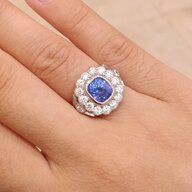 Joined

Mar 8, 2020
Messages

102
I realised I should have posted in this forum instead about my lab blue spinels from Ian Robinson of PrecisionCutGems. He's been so nice to work with, he even sent them to me before payment so that I could decide if I wanted to keep them (which of course I do).
I received them today and I gasped when I saw them. They are such a vivid blue. Cameras always struggle with reds and blues, so the first photo is the most representative of the colour.
As I said before, I will be making a pair of earrings and a pendant out of these. Maybe halos with the yellow-green demantoid garnets I got from Mastercutgems? Or pale purple tanzanites? Or something else?