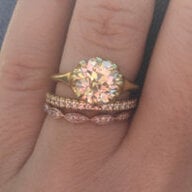 Joined

Mar 20, 2003
Messages

3,384
On a whim, I ordered a
Ritani
ring on Monday and received it on Friday . . . what a turn-around!
I've bought a few moissanite rings, but I've always preferred warmer diamonds in the J/K range and was sad to lose that with moissanite, though of course happy with the price.
So I realized recently that I could find a warmer lab diamond and that got me looking at stones on
WF
and
BGD
, though their search engines aren't the easiest. I saw someone suggest the
Ritani
database where you could filter by growth process, so I started looking there.
Initially I was looking at H-I-J colored diamonds with a yellow hue, but this 2.30 L VS1 caught my eye (I am a big fan of chunky arrows). Once I started filtering by HPHT, it was one of the few diamonds I'd earmarked that was still showing up. And the price was amazing . . . $770. For comparison, they have a 1.52 L VS1 (also HPHT) for sale for $739, so I'm not sure why this one was discounted so much. Since I'm not afraid of some warmth, I went for it. I held my breath while waiting for confirmation they'd gotten it, since all of my second choice diamonds were either less diamond or more money.
https://www.ritani.com/products/2-3...-vs1-clarity-igi-lg584358451-sku-d-1bj15c6w4z
I always have been and probably always will be a yellow gold girl, and I prefer white prongs, so I chose the tapered two-toned cathedral, which was also on sale for $488. So all in the ring was a little over $1300 with taxes.
My beloved OEC has gotten a little snug, but resizing it seems like admitting I'm not going to lose the weight, so obviously I
had
to buy a lab diamond instead.
I know you all understand!
ETA: I'm really glad to have found
Ritani
. . . the business model is great for me! I don't love the back and forth of having to communicate my desires for a custom setting. I just want to point and click and have a diamond appear on my doorstep, haha. The setting isn't as sturdy as my
BGD
five stone, but nor is it as thin and unsubstantial as my Ali Express rings. For the price, I'm very pleased.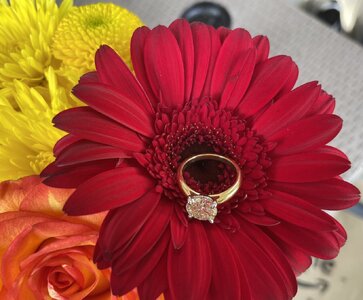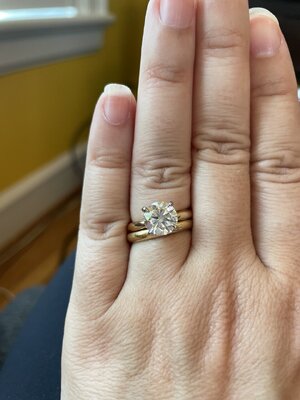 Last edited: