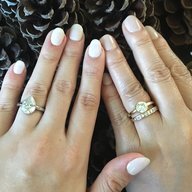 Joined

May 24, 2016
Messages

201
Hello!

I've really enjoyed going through the forums here! Thank you for creating such a wonderful resource for jewelry addicts! This is my first ever post on Pricescope (or pretty much any internet forum!) about my first ever custom jewelry project, so I'm a bit overwhelmed by where to start! I wanted to write about my experience here as I'd be very grateful for any input along the way! I'm also hoping that I might help other lurkers who are nervous about starting a custom project as I was.
Unfortunately, I discovered Pricescope AFTER I got engaged… I stumbled across it while I was searching for wedding jewelry to match my engagement ring. This in turn lead me to a vendor called Diamonds by Lauren. There were, of course, a lot of vendors on Pricescope I really admired, but DBL stood out for me because of the really creative (and often funny!) writing and stunning photos that come with each piece on their website. It really felt like whoever was creating a story to go with each and every piece of jewelry genuinely loved what they were doing.
I also really loved the way DBL embraced diamonds of every color, as I've always loved warmer diamonds. And colorful diamonds! My pie-in-the-sky dream is to own a pale pink pear-cut (say that ten times fast!) diamond one day… Anyway! When I found a set of pear-cut necklace and earrings I really loved (did I mention I'm a pear-fiend?), I wrote to DBL and kept hitting refresh on my inbox waiting for a reply... I was pretty stunned when the president of the friggin company, David, wrote back in a matter of hours!
David was so kind and helpful from the start! He was great, the earrings were great, the necklace was the GREATEST (it still hurts a little thinking about this necklace, actually!)--and the price was pretty close to perfect! But… I just couldn't pull the trigger--and I couldn't bring myself to admit why.
Before I discovered Pricescope, one of my biggest misconceptions about custom jewelry was that you needed to be a bajillionaire to work with serious jewelers. But when I saw the kinds of rings I could have had for the price of my current engagement ring on the forums and on DBL's site, I was in awe! And also… completely devastated! My fiance and I picked my ring together from my hometown jeweler. I have absolutely no doubt that they did the best they could by me, but it's clear that brick and mortar stores just can't keep up with internet vendors. As I OBSESSED over DBL's site, I succumbed more and more to that dreaded disease: Ring Regret!
Thinking about those dark times is bumming me out, so let's fast forward a bit! After a lot of moping… Like, a LOT of moping… And many heart to hearts with the saint of a man I am so seriously blessed to be marrying, I reached out to David again to ask if he would pretty please help cure me of ring regret.
From there, about a hundred (completely neurotic) emails to David later (with just as many patient replies back) brings me here, to the first step of my custom project! We found my diamond! For now, my fiance and I have been calling her Empress Josephine (just kidding, it's only me who calls it that in my head while my fiance simply refers to it as "The New Giant Rock" or "As Long As You're Happy Dear"):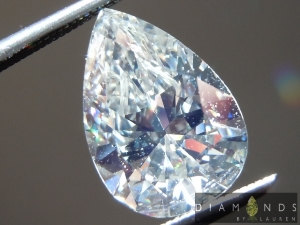 WEIGHT: 2.20ct
COLOR: J
CLARITY: VS1
MEASUREMENTS: 11.12 x 7.76 x 4.55 mm
TOTAL DEPTH: 58.6%
TABLE SIZE: 60.0%
POLISH: VG
SYMMETRY: G
FLUORESCENCE: MEDIUM BLUE
GIA REPORT #: 2173355425
The only downside of finding Empress J is that she eviscerated my setting budget. Initially, I had my heart set on a Look At Me I'm A Princess!!! halo like this one (full disclosure, I'm still deeply in love with this ring. If you own this ring, I want to meet you and drool on your hand!):
http://www.diamondsbylauren.com/index.php/jewelry/loose-diamond-154ct-pear-shape-jif-cool-strong-blue-fluorescence-r3656
But! The idea of a simpler and infinitely more practical setting has really grown on me! I'm thinking now of going with something like these, maybe something in between these two settings:
http://www.diamondsbylauren.com/index.php/jewelry/old-mine-brilliant-142ct-branded-dbl-modern-antique-diamond-gia-r5165
http://www.diamondsbylauren.com/index.php/jewelry/colorless-diamond-ring-101ct-j-vs2-cushion-cut-gia-bezel-set-ring-r5856
Well, that's all I have for now. Thank you so much for reading and I'd love to hear your thoughts!! What do you think of the diamond? What do you think of the setting?
Take care, everyone!