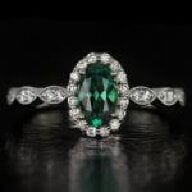 Joined

Apr 13, 2015
Messages

269
Hi All,
I was one of the very lucky 5 winners of the generous PriceScope giveaway, and I've decided I want to use it to go towards my very first diamond! I have so many ideas though, and I could use some help in deciding what direction to go in. I apologize in advance in how long this is.
I would like to get a ring, but I do want it to look different than my engagement ring. This is what my engagement ring looks like: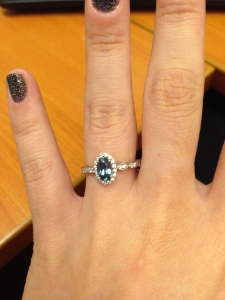 The center stone is a .68ct Portuguese cut natural alexandrite. Its dimensions are 6.8mm x 4.17mm x 2.95mm. I believe the diamonds on the halo and shank are 1mm. The ring is a size 5, although my actual ring size is really more of a 4.5-4.75.
I would like to have something that doesn't look too much like my engagement ring (or too engagement ring-y in general), and I've been thinking of going for a pear or marquise diamond in order to maximize face up size. Now, if I went with a marquise or pear, I would likely want it set into a ring with a sapphire halo, similar to these: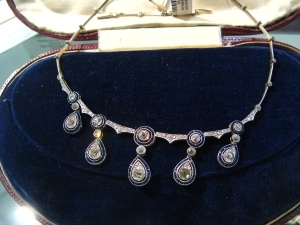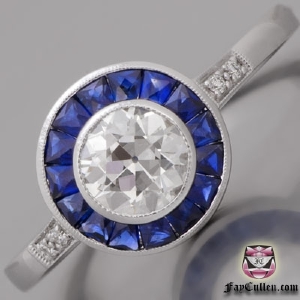 I really like the idea of a sapphire halo or somehow having sapphires in the ring. My finance's birthstone is sapphire, and I like how it makes it a little bit different. I also like how a sapphire halo would distinguish it from the diamond halo on my engagement ring, and I like how a sapphire halo is not so traditionally engagement ring looking. But, that being said, I also really love the bling factor and I know how a diamond halo can really help in making things look more bling-y, which makes me wonder if I should be looking at a diamond halo instead?
My other setting idea is to go for something in a more "non-traditional" halo setting; something like these: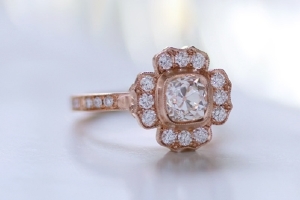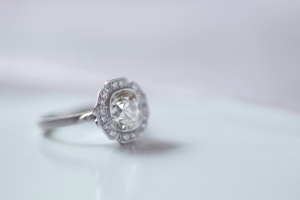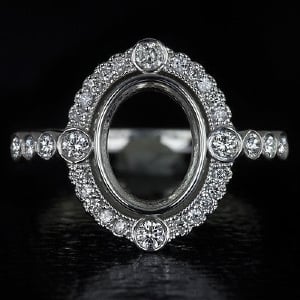 (I know this last one isn't a diamond halo, but I'm throwing it in there as a setting idea that I like)
Of course, I realize that if I go with something like the above, I'm likely not looking at a pear or marquise shape. I'm just feeling super indecisive about what direction to go in with this. Even though I am one of the lucky winners of the giveaway, which I'm super grateful for, I am still trying to do this whole thing on a budget. So, I would either like to put a portion of the $1000 towards the diamond with any remaining to go towards the setting OR I'd like to at least not go over $1000 for the diamond. I do realize this limits my choices in diamonds. I think that in terms of what is most important to me, I'm really looking for the following:
- something that faces up at least as much as my engagement ring (which is 6.8mm x 4.17mm, oval)...that being said, I realize I likely won't be able to afford a round or cushion with that sort of face up size. If I went with a round or cushion, I'm honestly not sure what kind of face up size would be "acceptable" for me, but I'm thinking maybe 5.5mm to 6mm would look nice?
- as much bling/sparkle factor as possible
- something that looks different from my engagement ring
I am not all that color sensitive, so I feel I'd be ok sacrificing in that area. I'm also not ever going to be looking at this under a loupe or anything so as far a clarity goes, I just would want it to be eye clean. I know cut is really a key factor in diamonds, and to be honest, I'm not sure how much is considered "OK" to sacrifice in that area. Carats obviously correlate to size, as a general rule, but I think I care more about face up size compared to carat size (provided, of course, that the diamond itself is not sacrificed for face up size).
With all of that said, does anything have any thoughts in what direction I should go in with this? I know ultimately I need to figure it out for myself, but I'm just feeling so lost, indecisive, and a bit overwhelmed trying to figure it out! I am not a person who really switches out rings, so this will likely be one of the only diamond rings I'll ever have (or, at least for a while anyway...I might be bitten by the bug after this and just need more!
), so I want to make sure that whatever I do, I do it right!
If you've made it this far, thank you!!! I appreciate any feedback, thoughts, ideas, etc. that anyone might have, and I am open to other suggestions as well!