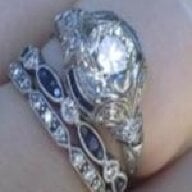 Joined

Aug 25, 2009
Messages

7,864
Well for those of you who have sort of followed some of my recent threads, I'm expecting again this Fall. DH gave me a dollar amount to spend on some new jewelry I wanted for a push present. At first I thought sugar stackers, as I love Megeve's set...but I just couldn't find any in a color that really sung to me. Then I thought- OK how about some custom detachable earrings similar to VannaK or CCN. I was going to have
BGD
or HM do them, but it was
impossible
to find a suite of gemstones in a color that I liked...well actually any at all. Only 1 vendor had something suitable and the shape and color were not what I was looking for.
I was really getting depressed as for once I had a nice size budget for something but everything I wanted was a dead end. Finally DH said how about a fancy colored diamond....well that genuis man that I married had a wonderful idea. My all time favorite ring on PS is Megeve's 4.70ct FLY in a LM halo. It is stunning beyond belief. However, my budget was much smaller and with the recent diamond pricing soaring through the roof since January I knew I would have to get a much smaller diamond then the 1.5-2ct I wanted.
Anyhow I searched all the fancy diamond websites and keep returning to one diamond on the DBL site. I kept seeing very nice cut cushions, but not with the color I was looking for. I was about to give up when I saw a curious one on DBL. The symetry of the diamond is a little wonky but for some reason it did not bother me at all...I just fell heads over heels in love with the color, that light lemonade yellow was perfect so I called and the next day the diamond was at my home. It is smaller then when I wanted and with a cushion cut smaller still for face up size. For right now I'm not going to set it. I will see if diamond prices go down and perhaps trade up if I find something else with that same color in the next year or two. If not, I was thinking I could combat DSS with a double halo of yellow and white diamonds. I haven't quite decided what I want to do just yet. Feel free to throw ideas my way though!
Wow I didn't mean to write a whole novel...now without further ado, my .93ct cushion cut FLY.
Real life shots will be posted later when I find the darn camera code. I have a feeling my shiba might have eaten through it...

Specs from GIA cert:
FLY .93ct
SI2 (eyeclean)
P/S: G/G (something I said I would never do...but I guess you should never say never with a color you love)
Fluorescense: Faint
5.41 x 5.24 x 3.54