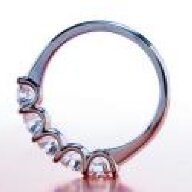 Joined

Apr 8, 2011
Messages

29
I started my search in my post "Is there a list of favorite vendors that you trust and shop" and I want to say thank you to all who responded. It was just the push and confidence that I needed to buy my first Catherine Cardellini pearls.
Let me start by saying that I really am attempting to pare down my jewelry so that I can wear my most loved pieces more often. So there I was trying to scale down and feeling guilty for not wearing my original pearls when I started looking for new ways to wear them…
Well, I just couldn't help it; there are so many beautiful pearls on ps that I found myself adding to my collection instead of cutting it down.
I already posted the item numbers in my favorite vendor post but wanted to share the photos of what I got and to say
Thank You
again to all who helped.
The necklace is 27" so I am already thinking about buying a 20-22" with White Keshi's to wear with it. (grrr, This forum is dangerous, but addictive.)
Earrings are just a staple for me, sort of like sandles, I just can't have too many.