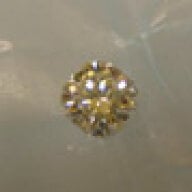 Joined

Aug 5, 2008
Messages

587
Out of my desperation having spent hours trying to get my pictures to post, please, understand-- this is the best I could do and think of after hours of trying different things =(
I really, really am looking forward to your helpful advice and comments! I'm talking to the designer tomorrow, so I just wanted as many opinions as possible-- are there any things I should have fixed before it's too late?
[Link removed by Moderator] See forum policies
I got pictures today and I am LOVING my ring so far. Keep in mind the prongs aren't done... Anything you see that needs fixing? Is the ring too high? -- that's currently my only worry. It is made by Bridget Durnell.
All constructive help/ criticism/ comments are welcome
.
There is a pictures where the ring is placed next to an example pave band.
Should I add pave diamonds where the black dots are? Should I add pave anywhere else? (first one)