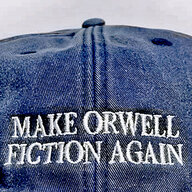 Joined

Apr 30, 2005
Messages

32,301
I am not making this up.
I was just siting in my bathroom doing my daily duty when I looked down and noticed a pretty but very disturbing flashy red glitter.

Resting in the seam between two floor tiles was what looked exactly like my little red diamond.
How could this be?
The FCDs are safely locked up in the safe deposit box in the bank but they WERE briefly here in our home a few days ago.
Could I have dropped one without noticing?
Am I going senile?
I could have sworn that I counted them when I put them in the bank.

I nearly stopped breathing.
I finished what I was doing, went to get my glasses and picked up a little crystal bead.
My SO does beading, making jewelry.
This one must have gotten carried into the bathroom in the tread of someone's shoe.

Whew, now I can breath.