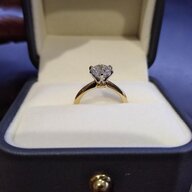 Joined

Sep 24, 2020
Messages

1
First of all let me say thank you to everyone here in Pricescope who led me to this wonderful company, I just hope to do the same for those who are as confused as I was.
My GF and I started living together this year due to COVID lockdowns, and that's when I decided that I wanted to marry this woman. But since most of businesses were closed during the lockdown I decided to try my luck online, armed with nothing but Google, I started reading about engagement rings and how to select diamonds. I ended up in Pricescope and yearned for a super ideal diamond for my proposal. I was torn between 3 different suppliers, but eventually ended up with
HPD
, simply because when I read this blog post on their site
https://www.hpdiamonds.com/en-us/blog/blog-article/62/help-us-help-you.htm
I thought that "this company really does care".
Eventually, I emailed them and within 24hrs I got an email from Wink thanking me for inquiring and that someone would contact me soon. The following day, the amazing Melissa emailed me, she really listened to what I was looking for and what fit my budget. I even inquired about their "Crafted to Order" (hoping that I could get a deal) and spoke to Layla a bit but in the end I decided that the in stock diamonds were more of what I was looking for. I narrowed down my search to 4 diamonds based on the information I read online. Being from outside the USA, I didn't have the luxury of seeing the diamonds before purchase and I was really worried as this would be my first time buying a diamond but in the end and with the help of Melissa and Vincent Chan of prosumerdiamonds.com, I chose a 1.50ct I VS2 Diamond. My only concern I had with this diamond was a slight inclusion on the table area, Melissa suggested that Wink could make a video on the diamond to show me that it was truly eye clean and within 3 days, I got exactly that. It caught me by surprise on how hands on Wink was with this sale, again it really affirmed to me the great customer service of this company.
For the ring setting, I was looking for something as close as possible to the iconic Tiffany's setting in yellow gold and white metal prongs. There was a lot of back and forth with Melissa on how to achieve this look, I probably sent her 30 photos and a couple videos to exactly what I wanted. When I received the CAD pictures, it was basically their New York setting with a couple tweaks. When I saw this, I only had a few more comments on the design and requested for a special engraving then I gave my approval to have it made.
Payment was a breeze through international bank transfers. After a few weeks when the ring was ready to ship was where I had problems, because of lockdowns again I couldn't get back to my second residence in Hong Kong (there was less taxes if I received the item in HK). I asked Melissa if they could hold on to the ring until the borders started opening up again, which they gladly did. During this time, the anticipation was killing me and I was pretty much on pricescope everyday looking through different photos to settle my curiosity how a
CBI
diamond would look like.
Finally, after about a month I was able to receive the ring in HK. The setting was perfect! When I first saw it, I laughed at myself for having so many questions and doubts about the NY setting with Melissa. The diamond too was perfect. It is completely white, bright and fiery faced up and only shows the slightest hint of color from the side depending on the environment I'm in. This slight color I think can only be seen if I'm actually looking for it, which I completely don't mind because it kind of complements the color of the yellow gold band. But for most of the time it's as white as my untrained eye can see.
So overall,
HPDiamonds
, 10/10 for their products and 11/10 for their customer service. If all goes well with my proposal later tonight, I'll probably be contacting Melissa again for wedding bands!
Sharing some pictures of the ring:
http://instagr.am/p/CEosAiMFimv/