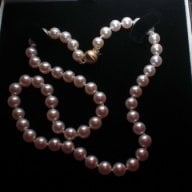 Joined

Apr 28, 2008
Messages

5,539
Hi friends!
I'm TOTALLY ESCATIC. I bought a 1.22 carat/7.2mm G, I2 OEC from Adam at Old World Diamonds a few months ago. I wanted big and blingy; I was on the lookout for a mate but I wasn't expecting to find one so soon. Last night, I found the perfect match for it at Love Affair Diamonds--http://
www.loveaffairdiamonds.com/on-hold-1-46ct-old-european-cut-diamond-gia-fancy-light-gray-i2/
, a 1.46 carat/7.2mm fancy light gray, I2 OEC. I can't believe it! I'm so excited, and it is just what I wanted--a blingy odd-couple pair of studs without spending a ton of $$$. The tiniest doubt is bugging me though--is this too big for everyday?
Now, should I put these in studs, or drops?
--If studs, are these too big for martini's?
--If drops, leverback or shepard's hook? Stationary or dangle? I have a pair of smaller .3 carat OEC's that I could use for a two-diamond drop earring as well.
Right now, I'm leaning heavily toward a single stationary drop like the second photo. I've scoured PS for diamond drop threads and have read that stationary drops can tilt forward, but that it can be remedied with a plastic back (though that sounds like a bit of a pain). If you have fave earring settings, please send them my way!