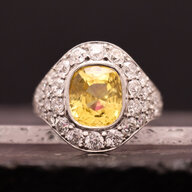 Joined

Jul 23, 2012
Messages

19,823
Grace, my beautiful e ring, has had two little ones.
Over the weekend I got 6mm , 8 prong yellow gold oec studs. Approx 1.5ctw sold to me as I-j color and si2 in clarity. They match my e ring, so I believe the color to be accurate, but I think they're probably i1. Not a big deal as they are in my ears and eye clean. Frankly, probably good it they are the clarity they are as if they weren't I'd be tempted to make a three stone.
They are goldilocks size, imho. I had tried on 5mm in the past as I assumed that's all I would be able to afford and they just felt sooooo small.
My ears have felt naked as of late and pearls just weren't doing it for me. I'm very happy with these babies.