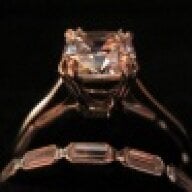 Joined

Nov 12, 2007
Messages

1,596
Soo, I went through diamonseeker2006's wonderful "Show me your diamond studs" thread (gorgeous studs, ladies on there, BTW) and got it in my head that I was going to aim for something in the .60 ctw. Then I took a little trip to Birks and tried on some .32 martini set studs (for $1600 - GAH!

) and .60 basket set studs and the .60s looked waaaay to big - but they were basket set, so perhaps that contributed to the overly bulky appearance. Then the salesgirl told me that they are .32 ctw and .60 ctw, which means that the size I can actually comfortably pull off, is half of what I thought I wanted.
So I'm looking for something in the .40s ctw., martini set in platinum. Can someone explain the cut/performance difference and setting quality difference between the H&A martini studs at
GOG
and the ACAs in martini settings from
WF
and why so many more PSrs go for the
ACA
studs over the
GOG
H&As? Will I even get to choose individual stones in that small a size? I'm thinking G-H/VS quality is sufficient, but do want the best possible cut to make them dazzling.
If anyone can direct me to a good thread on this topic, please do. My searches haven't been very fruitful.
Thanks all,
Pix