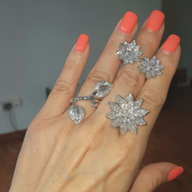 Joined

Oct 5, 2006
Messages

9,961
So, I have asked both
WF
and
GOG
to source me another diamond in the 3.5-4 carat E-F, VS2-SI1 range but haven''t heard back from them. I assume that they''ve not been successful. I''ve now asked Mark of ERD to source the stone for me and it appears that he has some but i''ve not seen the certs/ details yet.
Anyway, I have another diamond project in the meantime. Hubby gave me a pair of diamond earrings as a wedding present about 0.6 carat each, RB cut, G colour, VS2-SI1. Not great cut but I treasure them for sentimental reasons. As I have another pair of bigger studs (made up of my original e-ring and a 5th wedding anniversary present), I am thinking of changing the smaller ones into drop earrings, put together with pear-shaped, oval or even trillion cut diamonds - with the rounds ones on top and the fancy shaped ones dangling. I am thinking of nice thin pave around all of them.
Now, I''d like to ask you i) what size and shape would you recommend (I am aiming for maximum spread for my money), ii) does anyone have any pictures of how these should look like, iii) how long should the distance be between the RB and the fancy shaped ones (ie. the length of the drop), and iv) since it is too much trouble for me to send my own earrings to the US for setting (and in any case, I think it is much cheaper to set them here since labour is cheaper - though I am aware that the quality will not be the same, which I am ok with), where can I get some nice melee diamonds and what size melee should I get?
Oh btw, not sure about budget yet, but I''d like to spend less rather than more, maybe about $3-5K. Is that realistic?
Thank you.