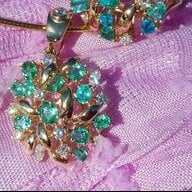 Joined

Jun 30, 2014
Messages

2,379
As I wind down collecting, I've been on a mission to get things checked off my list with a lot of help from Yvonne Raley (of Cecile Raley Designs on etsy). Until now, most of my stones are set in inexpensive stock settings with my only custom settings coming from Yvonne's stock designs (or variations of). After working quite a bit with Yvonne the past year, I finally decided to embark on my first fully custom designed ring.
Apologies for the long post but I was admittedly too nervous to post this as it progressed. I was doing enough second guessing on my own without soliciting more opinions. (I can't imagine what those of you who do bigger more expensive projects go through.). Yvonne's patiently guided me along. In the end, at each step, I pretty much just took deep breaths and said "I trust you...go for it".
Well, I can breath now (and so can Yvonne) as I am thrilled with the outcome. So here it is - from beginning to end.
First, we matched up the stones and decided on the arrangement. I had the concept of a flower ring - a spessartite, surrounded by mint garnets. Yvonne wasn't sure until she arranged the bright neon pink spinels on the outer edge. While I thought it would be a fun "summer" ring, I then worried that because it was out there, it might look too fake. And at the end, I started questioning doing anything with a spess since orange is not usually a good color for me (At which point, Yvonne even suggested scrapping the idea...but I decided to just bite the bullet since she thought it would look good)
Then came the first drawings and decision. We both agreed to go with the scalloped edges. Easy decision.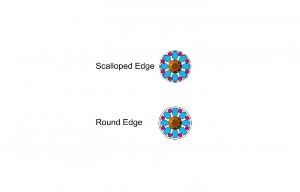 Then the CAD drawings with a note that millgrain and beads are added by the setter later. (At this point, I admittedly panicked even while giving my approval).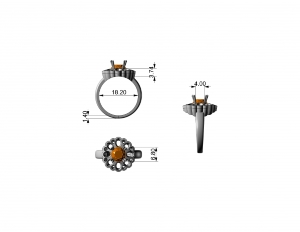 I started to relax when I saw the casting. While not a fan of rose gold with my skin, we both agreed that it was the way to go with the color combination of the stones.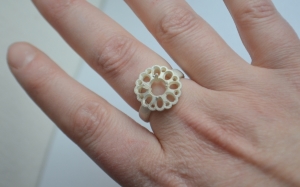 And today...pictures of the final project with a note "we all love it". When I responded "I do too!" She replied "Glad...Phew!"