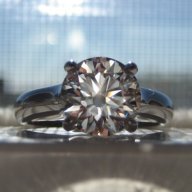 Joined

Jun 3, 2007
Messages

102
Hey all!
I just wanted to post about my recent conversation/quick meeting with Mark Morrell…
I needed to have my setting repaired by Mark, here is my setting: https://www.pricescope.com/community/threads/my-
gog
-2-34fvs1-in-mark-morrell-trellis.91119/ (specifically to have my stone re-set back into my setting) and was able to get an appointment to drop it off (I'm in the area) a week and a half ago… Mark is not set up for visitors as he is literally in a very small basement with no actual counter space that is not occupied by tools and other work equipment. Me being the jewelry/diamond obsessed dork that I am, felt pretty excited to be I his presence if only for a little bit – just to be able to pick his brain a bit and watch him work… I did see a few of the other settings – more on that later…
Well I can tell you that bringing back my ring and his work of art to him to be repaired did not produce the best feeling in either of us. He was incredibly patient and as always kind, but was rightly so frustrated. And I was incredibly embarrassed and felt so bad that I might have offended him (although he never expressed that he was offended) because I have always felt very privileged to have a setting created by him. Anyway, he was absolutely and wholeheartedly wonderful and explained what needed to be done to reset my stone. What was very nice was that he definitely perceived my feelings and reassured me that the setting was going to be ok!
On that note… as everyone who is familiar with his work knows he is an absolute perfectionist. He puts every possible effort into producing a flawless piece that is perfectly symmetrical and precise, and polished to that beautiful liquid like finish. He knows that he is valued among other things for his attention to small details and the finish to his rings. His settings are definitely for the "I will never change or upgrade this ring/diamond" (unless of course you can afford several of his settings

). I just can't say enough about his work and more so how nice and down to earth he is.
About the other settings… I was able to see /hold a torchiere setting that he was getting ready to polish for a customer. It was absolutely exquisite and completely fell in love with it. My setting is much more 'sturdy' and not as delicate as his 6 prong settings. I can tell you that the webpage adds much more than 10lbs to those settings – the prongs especially! When I commented on how tiny and delicate the prongs are he said that this mostly frustrates him because he is questioned about this most often. While he doesn't visit pricescope at all (and was very surprised to know he's a bit of a celeb on here), I let him know that I do and would post about this. They are perfect and just so delicate. I was also able to see the wax for the "fancy" flame or torchiere, with the small diamonds down the side, which was also just gorgeous. I immediately wanted one of course, and he did say that he has had quite a few orders for that setting some in as well… I told him he should add a testimonials page to his site…
So I guess I just wanted to share this conversation/experience because I thought others might want to know more…