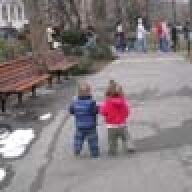 Joined

Apr 7, 2006
Messages

1,643
So I''m posting this partly because it''s funny and partly because I need advice!
My cat has recently discovered the joy of unrolling/shredding/eating toilet paper. He *kills* it. We''ve taken the roll of the holder and now have it on the back of the toilet, which is inconvenient but seemed to keep the stalker at bay ... for a while ...
But then last night, he discovered the other six rolls of toilet paper we had on the bottom shelf of a wire stand in the bathroom and started shredding one.
So what do we do?! How do you discipline/train a cat?! It''s futile, isn''t it? Are we destined to a life of shredded toilet paper?
A few shots of the crime scenes: