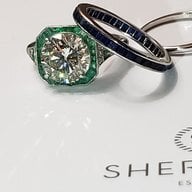 Joined

Mar 7, 2016
Messages

823
2020 is a really strange year for many. To put it mildly.

For me, I left Myanmar and am now back in our HQ, in a department that is predominantly male. Mostly with engineering backgrounds at that (no, not me lol).

I've also seemed to turn into a resident gem & jadeite hunter cum designer for them when they are sourcing gifts for their girlfriends and fiancee! Saving them oodles from the retail B&M they usually get from.

Here is a pair of Ceylon round lighter electric royal blue sapphires, heated, 1.07ct. Sourced by my PS buddy

To be set into sapphire studs with 3 pointer diamond melee.
Have you recovered from the culture shock? I always feel like HQ to Field is the worst jump.
But what fun shopping for beautiful things for other people.