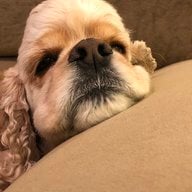 Joined

May 4, 2009
Messages

80
Hi all, this is my first post but I''ve been lurking for several months as I waited patiently for my own engagement. It finally happened this past Saturday! Story to follow (later). But I am sure most people here are more interested in the ring!
So here are the specifics:
1.73 H&A RB F/VS2 EX/EX/EX No Fluor
in a custom Bridget Durnell setting
I saw one of her settings on the Pearlmans site and knew it was what I wanted, without having ever seen it in person. We called her up and found that she actually does custom work as well (as some other PSers have mentioned). Once she helped us secure a center stone, we started on the setting. I tried to explain to my FI that there were a few slight modifications I wanted, but found he had trouble articulating these ideas to Bridget. So finally, I picked up the phone and talked to her myself. She was super nice and definitely was able to understand what I wanted, even though all of this was done over the phone (she is in CA, I am on the east coast). After that initial discussion, I felt I could entrust her with all the other details and we left her to her work. My FI checked in every 2 weeks initially, but as the ring got closer to completion, he was calling almost every other day to get updates (mostly at my gentle nudging). Bridget was incredibly patient about that

Finally, she called to say the ring was ready. Since I was eavesdropping on nearly every phone call FI was having with Bridget Durell by this poit, I knew the ring would be arriving on Saturday. On Saturday morning, FI tracked the ring online via the FedEx website while I asked, "Is it here yet?" every 2 minutes. At noon, he got up and suggested that we go ahead and eat lunch since the ring had still not arrived. He went back to his room to get turkey and bread for sandwiches. He came back, put the mustard, mayonnaise, etc. in the fridge, and then pulled a tiny ring box out of the grocery bag. My heart skipped. He proposed. I said yes. Then we ate the best turkey sandwiches ever.