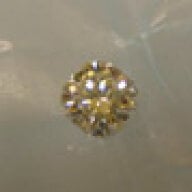 Joined

Aug 5, 2008
Messages

587
I hope I'm posting in the right forum, if not- admins feel free to move it!
I had my engagement ring custom designed by Bridget Durnell and I am convinced that she is the best kept secret in custom designing jewelry!! I searched many, many custom designers before I finally decided on Bridget! I highly recommend her, she was great to work with and I was pleased with all aspects of our transaction! Her prices are very reasonable (and on my particular ring, a little cheaper than
Whiteflash
's quote to me.. fantastic for our student budgets!). The final price of the engagement ring was right within the range of what she quoted me, and I really appreciate that she stuck to the budget! =D
The ring- Her work on my ring is very beautiful and I am
very happy
with it (so is my boyfriend). Bridget's got a really good eye and was really quick to understand what type of ring I was looking for, and was able to send me emails of pictures similar to what I'd like or am looking for. I have attached the professional picture she sent me so you can judge for yourself! When I saw the ring, I was elated... it's very perfect for me, which is exciting because Bridget took the time to listen to what elements I wanted in the ring!
Bridget- She is SUPER nice. I am picky and paranoid, and she put up with my many, many emails and did a great job answering all of my questions. I knew that my boyfriend and I would end up going through Bridget when after I sent her an email, she had me call her to talk about the ring, and she is seriously the sweetest person ever on the phone!! She is also very responsive- my engagement ring is slightly too big (not her fault, I told her size 6 but it turns out I'm a little smaller than that), and she told me to send it back to resize it because she wants the ring to look perfect on my finger! Bridget definitely knows what she's doing!
Let me know if you have any questions about me working with her, I'd love to help! I have no affiliation with Bridget, just a very happy customer and I think she deserves the positive recognition! =D She is currently now making my wedding band, and when I save up the money, we'll be going back to her for my bf's wedding band too!