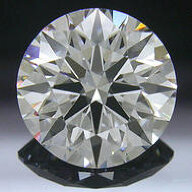 Joined

Jan 3, 2007
Messages

36
Finally I received my ring set and pendant back from
WF
yesterday. Thanks to everyone who had answered my questions before.
I am very glad that I found pricescope.com. I have learned so much from this site, and felt much more confident to ship online.
Before: a set has been worn for 8+ years. I never sent the set for polish. (do you send rings for maintenance every 2-3 years?)
After : I like my original simple platinum ring set very much, so decided to keep both.
The new stone from
WF
(1.38 E VS1 with excellent cut) was set on my original e-ring. The prongs of the original setting were enhanced and sized to hold the bigger stone with "laser equipment" which I don''t know how to call it. I cannot tell the difference from my old setting -- very good job. Both wedding band and e-ring were polished -- jus look like brand new( I am very happy with it). My old stone from e-ring was used to make this platinum double-bail four prong solitaire pendant which has 6.8mm in diameter and looks pretty good/big on my neck.

There is one thing bothering me

-- I expected my new E VS1 stone to be much better than my old H VS2, but it''s not the case.
The new one is bigger a little bit when I compare them side by side. Both "face up" look no different to my eye. Both are very sparkling -- my old one is just VG cut I guess. It''s hard to see the color different from the side when they are in the setting.
Both stones are mine. I should be happy for my H VS2 look nice. But I paid so much for the E VS1. I just wanted it to be a lot better.