I'm pretty new to PriceScope, though I recently opened a blog about my antique ring with an Old Mine Cut diamond. I got a lot of great feedback and it was a lot of fun! So now I'll show off another of my goodies, a newer ring (6 or 7 years old) with a rather modern look to it. I like to wear it while I wear my other favorite ring, the OMC, so that I have an example of an antique cut and a new one, an antique ring and a new one, a yellow gold ring and a white one, a rather overstated brilliant cut and an understated Asscher cut. Now about this ring…
I had long been attracted to Asscher cut diamonds. (For those of you who are not familiar with Asscher cuts, this is something of a square, almost octagonal step cut or "emerald cut" diamond.) I happened to find it while at one of the International Gem Shows that was in town. It was shown by one of the exhibitors, Kenny, who owns the Supreme Gems Corporation in LA. I was immediately drawn to its cool, white appearance. Kenny happened to have a number of mountings available and he had one that I thought would look perfect with this stone. After giving it a day's thought I returned to the show the following day and purchased the stone and the ring. A few days later Kenny sent it to me. I've been proudly wearing it ever since.
A comment about the stone as it relates to the mounting: I've found that one of the tricky things about jewelry is getting the right mounting for any one stone. Of course this isn't much of a problem for the modern round brilliant cut since the majority of stones sold are of this variety. There are thousands of styles made for this style of cut in every size imaginable. However as soon as you get away from the traditional style of cut you can run into problems.
One problem is this: just getting a setting that will fit a stone of a nontraditional shape. As soon as you get a square, an oval, a mine cut – anything but the modern round brilliant cut – it can be difficult just to find a mounting that has the correct size and ratio of height to width for a rectangle/oval/marquise, etc. stone. First is the problem that there just aren't as many of these mountings made. Second is the problem that while there's only one shape for a circle, there's any possible number of possible shapes and ratios for a rectangle, oval, pear, etc. Of course there's a certain amount of latitude in the way a stone can be set within any mounting, but this latitude only goes so far.
Additionally, if you're like me, it's often difficult to know what something will look like once it's completed. While I feel like I know beautiful stuff when I see it, it's very hard for me to imagine what this stone will look like in any particular setting. I'll know whether I like it once it's done – but won't really know until then. On a number of occasions I've picked a stone to be set in a setting of one sort or another only to be disappointed with the final result. (Same thing goes for paint colors for my house that I picked on the basis of a paint sample!) The jeweler had done a perfectly fine job of setting the stone. But it just didn't wind up looking like I'd imagined. Sometimes I wind up liking it anyway and simply accept the fact that it's not what I thought it would be. Other times it winds up placed in the back of my jewelry cabinet and I just don't think about it anymore.
In this case I'd lucked out. Not only did Kenny have the stone I wanted, he also had a setting that I thought would go perfectly with this stone. I was able to place the stone on top of the mounting and to look at it from its future perspective. Of course it would wind up being set further down in the ring and with a bezel around it. But it gave me a pretty good idea. And I've always been very happy with the results.
Okay, enough gabbing. Here are some shots of the ring: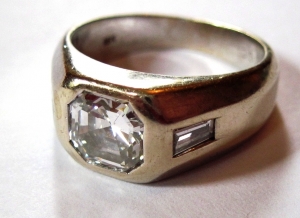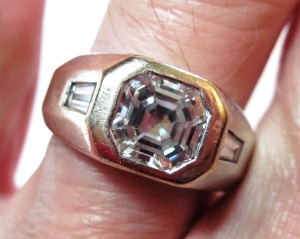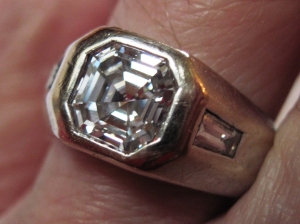 Now for some specifics. This stone is a GIA graded diamond of 2.03 carats, SI1 clarity, and F color. It has a depth of 63.9% and a table of 67%. You may be able to see a fairly prominent feather that is parallel to the table facets, also a few specks of inclusions. I correctly guessed that since the feather is parallel to the facets that it wouldn't stand out, especially once mounted in the ring. Of course these photos are greatly magnified and would make a flea look like a mighty monster. But it's eye clean and together with the white color it looks really nice!
This was my first big diamond buy (first of two!). I know a bit more about diamonds now than I did then. While I do like the diamond and the ring and might very well buy it again, I've since learned some things about diamonds that I didn't know then.
One thing I learned is that while GIA grades the symmetry of this to be good, that this doesn't necessarily guarantee maximum brilliance as it relates to cut. It refers primarily to the fact that this is of a good, square shape - it's not lopsided. I've since noted, however, and you might note it too - that it doesn't have quite the ideal "windmill" pattern that is desirable in an Asscher cut diamond. Also I would guess that it's not as brilliant as it might be because the cut proportions were made to maximize size at the expense of brilliance. (I might have guessed this by the telltale fact that the stone registers just a hair over the even number of 2 carats at 2.03 carats.) I can easily imagine the manager of a diamond cutting operation telling the cutter, "Try to make it bright. But don't do anything that would get it below 2 carats. Sacrifice some brightness if you must. The price will drop substantially the second we get below 2.00 carats. Just as people will buy something for $1,999, they'll claim that they can't afford it if it were to cost $2,000. The same principle applies here, only in reverse."
By the way, while I'm no expert here, I understand that AGS does a great job of grading diamonds according to their potential brilliance. Also, there are a number of tools available on this site that help describe the potential brilliance of a stone. Once again, however, it becomes more difficult to grade brilliance once you get away from the round brilliant cut. The ultimate determinant of a stone's brilliance is your eye. Of course your eye will see stones differently in different lights. And you can be sure that most jewelry sellers have the lights set up in their showroom to make all of their diamonds look brilliant! Anyway, to summarize this subject, I'd say that I'm happy with this stone and ring but if I were to buy it today, I'd try to be a bit more careful about its cut proportions.
The one thing that makes me a little less than totally thrilled with this ring is the fact that the white gold of which it's made tends to turn a bit off white. When I first got the ring it was brilliantly white and it looked wonderful with this colorless diamond. It's a 14 kt. heavy white gold mounting. I believe that it was probably coated with a thin layer of platinum, rhodium, etc. to make it appear perfectly white. After wearing it for a while, however, I noticed that it (the mounting) began to appear rather less than perfectly white. I rubbed the heck out of it with a jeweler's cloth and eventually began to try to polish it with a dremmel tool and some polishing compound. It didn't help. Little did I realize that I was actually buffing off the white rhodium finish and showing even more of the slightly off white "white gold" beneath it. No matter what alloy of gold you use (some are more white or yellow or rose colored than others), it will still tend to show a certain amount of its underlying yellow color. And of course with a very white stone, nothing looks better than a white setting.
Eventually I decided to take my ring to a jeweler. He sent it off to have it polished, recoated with platinum, and again polished to a mirror like finish. It was absolutely gorgeous! It was hard to tell where the diamond began and where it ended. It looked like my finger was as good as encircled by an enormous diamond. Even so, within a few weeks, the plating began to wear off and it again shows the less shiny, somewhat yellowish tint that perhaps you can detect in these photos. It's still beautiful, but I wish I could keep it always looking as it did when it was new.
I do have a question for anyone who might happen to have an answer for me: would platinum resolve this problem? I understand that platinum is almost perfectly white. However, I also have heard that it scratches quite easily. So it's possible that if I were to find a platinum setting for this stone, that I might get a good white color but would never be able to keep the mirror like finish that looks so good. Is this correct? If so, would it be possible to keep it to a mirror like finish with the occasional buffing out by hand with a rouge cloth or even with my little arsenal of dremmel polishing wheels?
I hope you enjoy these pics! Thanks in advance for your comments or queries.
Mike