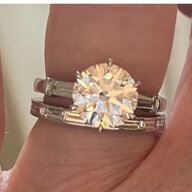 Joined

Mar 31, 2018
Messages

6,985
I haven't been on PS for a few days

@Mamabean

and all I can say is WOW!!!! She is gorgeous!!!! I can't wait to see her set and on your finger.

How on earth were you able to make your mind up so quickly on a setting? I would love to be able to be to make a decision this quick on anything. The ring is going to look spectacular.

No one deserve this happiness more than you do Joanne. Your husband did a kind, wonderful thing in giving you this gift.
Thank you so much
@Calliecake
! it looks like a quick decision but I really give a lot of thought into it..I mailed the diamonds in to David this morning. He won't receive them until tomorrow..but he just sent me a cad!!! There was one tweak..Everything else looks perfect! He'll probably send another cad with the modification..and then I'm in the queue!