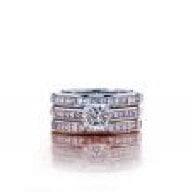 Joined

Nov 23, 2008
Messages

1,453
Date:

3/30/2009 9:43:23 AM

Author:

tourmaline_lover

Date: 3/30/2009 9:35:31 AM
Author: hoofbeats95
Thanks for the compliments everyone!

I was wondering what everything thought about the covered bottom? Anyone have a ring like that? I''m still pretty concerned about that.

I was actually going to mention something about the covered bottom. I think for a light stone, this is fine. It acts like a bezel and deepens the color a little bit. I think the color of your stone looks even better in the setting.
What about cleaning? I''m worried about water/cleaner getting in there and never coming out. Basically I don''t have access to the bottom. It does sort of act like a bezel. And since light enters from the top it doesn''t "block" anything. When I set it in a regular setting you definitely noticed a better color with the closed bottom of this setting. Which is another reason I went with this one.
Funny though that you think the color looks better in the setting. I don''t see as much blue now that it''s set as I did when it was lose.