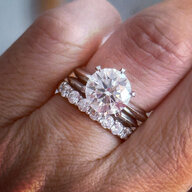 Joined

Jan 14, 2003
Messages

2,789
As some of you may know, I have been looking for a diamond since January and I think I have now found the perfect one. I haven''t decided on which setting to get, so I decided to go visit two Vatche retailers to see the settings prior to making my decision.
I went to the first store and the salesperson showed me the settings and of course started to ask me what type of diamond I was interested in. When I told him that I had one already, he asked me if it was certified and I told him it had a AGS cert. He then told me he had never heard of such a thing and nobody on 47th street had anything but a GIA cert. for their diamonds. I told him that I thought AGS was equal, maybe even better than GIA, and he told me that the person selling me the diamond was just giving me a bogus appraisal. So, I left.
Next, I went to the other retailer, and once again, as he was showing me the settings, he started asking me what type of diamond I wanted. Again, I told him that I already had one, and again he started asking me what color, clarity, size, etc. When I told him it was AGS certified, he seemed impressed. He told me that AGS certified diamonds were very hard to find around there. He asked me how much I was purchasing the diamond for and I told him the price and he pulled out the Rap sheet and told me I was getting a great deal. He even started telling me that he had purchased an AGS diamond that was smaller than the one I am purchasing, and he paid very close to the Rap sheet, whereas I was saving a few thousand.
The funniest thing was when I told him I was purchasing the stone online, he just could not believe it. He said he would have to start paying closer attention to the internet for now on!!!
I think he told me a total of three times that I was getting a great deal on the diamond.
Well, to end my little story, even though the second guy had the settings I wanted, I am still going to purchase it online. Not only is it cheaper online (I am saving $200), but I don''t pay tax either!!!