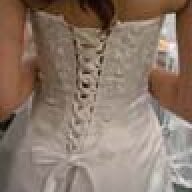 Joined

Dec 12, 2006
Messages

847
It''s been ages since I posted but I''ve been lurking on and off for the past year or so. I got a new job in late 2007 that kept me too busy to post but now that things have settled down a little bit I wanted to share my two OEC re-set projects.
The first is my .85ct transitional/oec. The faceting has an even flower-like pattern which makes me think it''s a transitional. It''s an approximate I-J and eye clean. It has a creamy warmth to it that I love. I wore this in a thin micropave 6-prong setting for a while, with a matching micropave band, but got bitten by DSS and since we couldn''t afford an upgrade, I went for a halo. I got the setting custom made by LOGR in Jan 2008, modified from a setting that was originally meant for a oval. This was before LOGR became popular and their prices went up, so I got the setting for a very reasonable $200 or so. I''d never heard of LOGR but Stephan was very polite and responsive so I thought it was worth the gamble to see if I liked the look of a halo and if I didn''t, I''d just put in a semi precious stone and wear it as a RHR. As it turned out, I loved the look! The halo is very delicate and I love the thin band. The only issue I have is the distance between the prongs was actually too small for my OEC so it is set a little bit higher than I would like. But that said, I love the fire thrown off from the exposed crown when the ring is in profile

The second diamond is a true OEC with larger facets at the bottom. It''s an L-M colour that ranges from a pretty light yellow to a warmer deep cream colour. It''s approximately .90ct and I had it in a Tiffany inspired solitaire setting for a while before deciding to get it re-set when I went to Singapore recently for a short holiday. The re-set was a bit of a disaster because I had no clear idea in mind as to what I wanted, all I knew was I wanted a setting that would emphasise the colour of the diamond, so I asked for the whitest possible melee to be set with it. I also knew I wanted a plain band on the setting. The re-set cost me SGD$500 (about US$350) for approx .20ct F coloured melee in the halo and 18ct white gold in the setting. It was a reasonable price but the halo was set too far from the diamond and the whole effect is just too ''big''. It swamps my 2.75 finger and I''ve been too embarassed to wear it anywhere. My mum loves the setting and has offered to buy it from me if I''m still not comfortable with it. So ladies, is it my imagination or is the new setting too much? I''d love some feedback.
Without further adieu, here are the pictures

Firrst the transitional. I wear this every day and the LOGR setting has lasted the test of time. I haven''t lost a single diamond from the setting and I have banged it around by acccident. The diamonds in the melee are not perfect but they do sparkle in the sun.