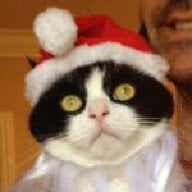 Joined

Oct 7, 2004
Messages

5,239
I just received a pair of earrings I won off eBay... and they''re fantastic!!
These came from
Blue Nile
, and the quality is amazing. .40ctw, E & F, VS2 diamonds set in screwback 18kt yellow gold. I was only able to find one small crystal in one of the earrings, using a 20x loupe, and the cut is very very nice! I can make out some thin arrows, but who cares... it''s sparkly!!
These are my mom''s Valentine''s Day present. She had a pair of earrings exactly that size, but they were stolen. My sister''s ears were infected a few months back and needed to wear something in 18kt yellow gold, so she borrowed them. Well, she had a school play and had to wear some pirate earrings, so she took them off and put them in her purse which was in her locked locker... and someone went in and jacked them.

Anyway, my mom''s been wearing some diamond huggies since then, but I know she''d prefer some smaller studs that don''t get in the way when she used her phone. She has bigger ones but never wears them because she''s afraid she''d lose them... hope she will wear these!
my camera is somewhere in this madhouse, but here is an image from the auction:
Best of all, I got it for $226!!! (and it comes in a beautiful polished wooden box!) Yay!!