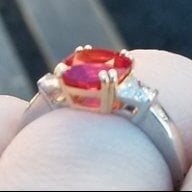 Joined

Nov 3, 2009
Messages

7,589
I want to start this thread because people travel, or go cross-country (ies), or simply want to see collections of gemstones. I would like to see/make a list of museums worth visiting with good collections of gems. It started with TL mentioning The Field museum Grainger Hall of Gems and I have never been there, and I have visited Chicago twice! I think if we all contribute, it will be a nice list.

My turn:

Moscow - Diamond Fund (long lines!)
Fersman mineralogical museum (small, easily accessible and calm)

St. Petersburg - the Hermitage (be aware though, that before you get to any gems or Skythian or Sarmatian gold, you'll be distracted by DaVinci or what not); but there are stones everywhere, the columns made of jasper and malachite... and the Amber Room has been restored

Ekaterinburg - Museum of History of Gem-cutting and Jewelry
Museum of fine arts

I have been to the Smithsonian and to the Met but it was at a time when I was not interested in gemology so perhaps someone can comment on them more.

I would recommend Benaki Museum in Greece for their jewelry collections

But we want to go to Israel - anything there?
My son is asking to take him to Brazil - has anyone been there? Any museums featuring colored stones?

Where else have you been and what is worth seeing?

Please contribute whoever can, it could be a fun thread!