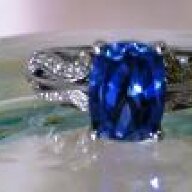 Joined

May 20, 2011
Messages

2
Please excuse me if I sound like a newbie, I am one. I've been lurking here for a while now and thanks reading all of your amazing advice and tips I finally found a stone for my e-ring - beautiful VVS blue sapphire measuring 9x7. Unfortunately it came pre-set in a horrible silver mounting, but it was too pretty to pass up (and the pretty
little
price tag didn't hurt either).
So now after months of hunting for the stone, I've now got the "mounting blues". My fiance and I finally came to a decision on a setting that we both like - he has Dom Perignon taste on a Miller Light budget and I want simple, classic and affordable beauty. We decided on a three stone setting with half moon side stones but I cant seem to find a setting for anything near what our bank account allows, and trust me it's not much.
To give you an idea of what I'm looking for we originally fell in love with this
UNUSUAL RING SETTING
and would like to find something similar. I also found this
spectacular ring
which I love, I just wish there were a few less numbers in the price.
I know what I'm looking for is going to be hard to find and am willing to go the custom route. I figured I would ask all you PSers for advice on where to go, what size side stones I should get and ideas for other settings. I'm still drooling over all of the eye candy here so I know you all know what your doing. Please share your knowledge and keep in mind the slate is pretty clean so feel free to get creative.
Thanks in advance! I look forward to seeing what you all come up with.