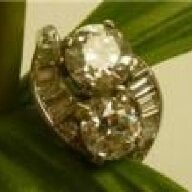 Joined

Jul 2, 2010
Messages

1,036
So. weeks ago I printed out the webpage from
BGD
, the one about the DBTY Mothers Day special and left my card for a $50. discount that I got from a previous purchase where the DH would see it, and.... for Mothers Day my Hubby is getting me the
BGD
DBTY bracelet.
Oh My I am so surprised

Was going to get the pre set .25ctw one in rose gold but have run into a snag. I am not a stock size 7" wrist so Lesley said they have to order a longer chain for the bracelet to fit, my 7.5 wrist so... since I have to wait a bit I was looking at the custom one,so now I think I really need the custom one with inside only milgraining in rose gold. Rough spot to be in huh?
Also,after speaking to Lesley via email I am sending my studs to Brian to have them rest in Milgrain rose gold bezels. YAAAAA
Can't wait!!


Looking foward to all the new projects you guys are planning.
Happy Mother's Day to all!