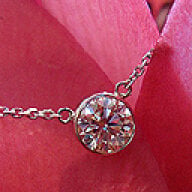 Joined

Oct 30, 2002
Messages

31,003
Lugus asking me what my ring looked like in low light inspired me to go out and snap 80 pictures of my ring tonite in different lighting conditions (it was a slow night!)...and here are some of the winners. I took some pix in the streetlamp outside (yeah that was funny), bathroom, office low lighting etc. Finally figured out how to take closeups with the 10x loupe (stone looks a little dirty, oops), oh and I experimented with my camera's 'negative art' function, very interesting. Wonder what all those black spots are. Kind of scary looking.

Enjoy!



Edit: Darn..I forgot to remove the extra white space and now Pscope won't let me load a new image instead of this one. Sorry about the screen enlargement!

Figured I should also say what/where the pix were taken. The first one on the left is in flash in the bathroom--very blurry but sooo sparkly I had to include it, one to the right is low lighting in our office, third one on left is office as well (this is my FAV), and 4th is in bathroom with the 10x loupe jammed up against the camera's viewfinder. Stone is a little dirty!

Next post is the negative art one.