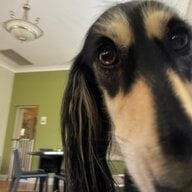 Joined

Jan 22, 2014
Messages

5,358
While I am proud of my "scores", don't think for a minute it has all been smooth sailing on my colored gemstone journey. The main thing is I have learnt, I've done more reading, done courses and bought appropriate equipment so hopefully not too many pitfalls lay ahead.
So I'm "show casing" some of my wonderful mistakes.
First up is my Spessartite Garnet, that isn't. I think this was one of my first Pricescope Posts. So proud I was, thought I'd ticked all the boxes and bought very well. Nicely made ring, good heft, 14kt gold, lovely. Except it's a synthetic sapphire. "What" "huh" - I was shocked. Truth is that back then I didn't even know sapphires came in orange!
Next is my Opal Heart Pendant. Yes, it's an Australian Opal set in 14kt gold. I bought it at auction, in person BUT I hadn't inspected the lot. It came up and I thought "I'll be having that". Ugh, opal has a significant crack, I should have inspected it before bidding/ buying.
Next up are my Multi gemstone 18k earrings. Very pretty. Hallmarked for 18k yellow gold, except they aren't. Fake hallmark. Only realized this when the gold plate wore off. Expensive mistake.
Next another pair of earrings. Set in 14kt white gold with wee diamonds, though not great quality. Thought the green gemstone was likely Chrome Tourmaline. Loved the color. Had them quite a while when the light caught the stone "just right". Yikes, it's a doublet. Green something stuck on a glass backing. Well that was Surprise!
Finally, my mothers mistake and one I didn't pick up one. Mother bought from a reputable auction house a beautiful diamond watch with a diamond tennis style bracelet, all 14kt white gold, and paid a considerable sum for it. She wore it many years until she decided it was too loose on her wrist and the bracelet needed shortening. I dutifully took it into my jeweler and we were all in shock when it was revealed all the gems in the bracelet were CZ. A handmade, tapering size, individually claw set, articulated 14kt white gold bracelet set with CZ! Ouch. Currently being turned into a bracelet with a marquis Moissanite - salvage something out of it.
All is often not what it seems.
Share your follies and let's laugh lest we cry……