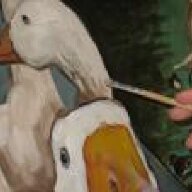 Joined

Apr 2, 2010
Messages

1,815
OK GUYS.... Now I'll finally give my 2 cents. (in a series of posts otherwise it's too crazy long
)
DISCLAIMER: My real life experience with chunky cushions is almost nill. The only ones I've ever seen live are this Perry sourced E 1.01 and the two J AVC .41/.42 studs. So I make no sweeping pronouncements on all AVC's or all Perry cushions. Just giving you my experience of these little beauties I currently have in my hot little hands.
OTHER INTERESTING POINT: as a child of the computer age, I am proud to say that I did all of this online and by phone. When my parents asked me "wasn't that a bit risky?", I replied that I actually find it riskier to buy in a store. Why? The lighting, the choices, the prices... they are all set up to seduce you, spin you round, get you emotionally connected. Try on a ring - it's like taking a car for a test drive - once you have it on, it's harder to go away without buying. Online you can easily compare vendors, transparent prices, styles, policies, and get feedback. At the store, you're at the mercy of the moment. Anyhow, in short, my experience shows you can get extraordinary products, great service, great prices, exceptional policies without ever stepping foot into the lion's den.
AND NOW WITOUT FURTHER ADO...
POST ONE: COLOR
below is a photo I think captures pretty much the difference between the J AVC and the E Perry cushion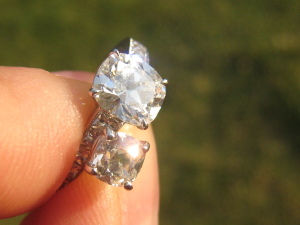 I am loving the bright whiteness of the E much more than the J of the AVC. It seems to my untrained eyes that there are many many more colors popping off the E than the J. I love how the colorlessness of the E is like a blank slate for all the color reflections. At any given moment I see colors ranging from hot reds & pinks and bright ice blues to every shade of soft pastel. It's outrageous. And I just also love how icy white and bright it is. It just pops like I'm wearing a tiny light bulb on my finger.
The J's are beautiful and alone (not next to the E) face up really white. I mean, if you look at them in my ears, your mind does not say "tinted" or even "soft white". They just look white. The difference to me is that I don't see as many colors shooting off them as from the E. Using an art analogy, if you put a whole array of colors on a white canvas, they are gonna show up differently than if you put the same array on a cream colored canvas.
Again, this is only my experience with these particular stones and I am simply a novice. This may not be the same experience that others have had and I'm really curious about what DreamerD, CCL, and others with gorgeous J's or lots of time and knowledge about cushions have to say.
NEXT POST: SHAPE AND DIMENSIONS OF THE AVC vs THE NON-BRANDED CHUNKY CUSHION