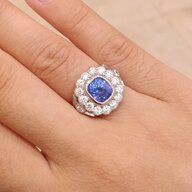 Joined

Mar 8, 2020
Messages

135
I posted about this stone in the vendors photos Vs real life thread, but I thought it deserved its own thread. This is a mint tourmaline cut by Jeff Davies in the UK, and I asked JuliaB on Etsy to make her French cut moissanite ring as a platinum setting only.
I just had it set by a local jeweller and I love the colour. I don't own many green stone rings - yet
My only niggle about it is that it's US size 3.5 and the setting is really designed for a much larger size IMO. There are 6 moissanites on each shoulder but really 3 or 4 would have been enough. You can't see the rest and it makes it very thick causing a gap between my fingers. I like my rings to be flush and comfortable. That's no one's fault really. I asked for this setting in this size and that is what I got.
Now photos! Excuse the bad nails. I've been learning to make jewellery and it wrecks my hands.