Have been lurking for a few months, this forum was a great resource when designing my fiance's e-ring. Thanks everyone for their contributions.
Where to start. So months back my then GF and I were casually/jokingly discussing our engagement and I had her send me a few ideas of what she likes in terms of an e-ring. She definitely didn't want a diamond, and she shared a few pics of some rings she liked, a few morganite halo rings, some square halo rings, and others. Quite the variety but gave me a general direction.
Few months later decided it was time and went to a local jeweler to talk rings and was shown the gemstone case and an incredible pale green zircon caught my eye. It was gigantic like 10cts but the color was incredible. Went home and did some research and decided I definitely wanted something in the mint green/pale green realm in an oval and in a halo setting. I did a ton of research and found a lot of elements I wanted to incorporate but that ring didn't exist so decided to have a custom ring made. I made a sketch of what I wanted the setting to look like. Twisting split shanks with pave diamonds and milgrain, and a diamond halo in white gold. Wanted it to be on the thinner more delicate side but with some interesting milgrain details without it looking super vintage. Once I was getting closer to the final product, I bumped into yingh's tsavorite ring which gave me confidence that my design would translate to a nice ring (thanks yingh!)
(my sketch)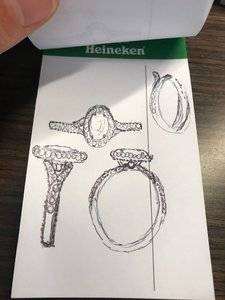 We ordered a few stones to look at and we had a nice looking green tourmaline but it didn't speak so me so we kept looking. My jeweler eventually found an incredible afghan mint green tourmaline. 2.97cts 10x8mm (I believe can't remember the exact specs right now, def ~3cts and 10mm). This was it! Stone was cut very well, not treated, no inclusions/imperfections, and just had a depth of color and fire that is unreal in person. I loved how much it changed i different types of lights and how it glows in low light settings.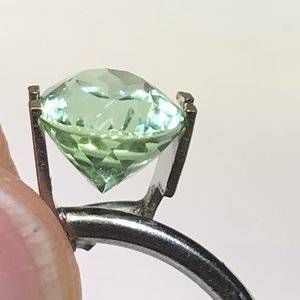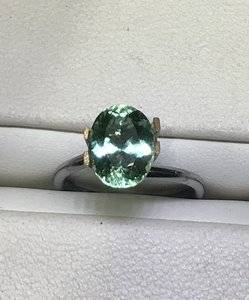 Now that the stone was nailed down, jeweler helped translate my design to one that would fit the dimensions of the stone and have the structural element my back of the napkin sketch didn't. We then had a 3d printed wax mold made, made some adjustments and had the ring cast & finished. The first time I picked up the ring, the person I had been working with was not present and did not get a chance to inspect the final product. I Was trying to push the timeline but in hindsight this was a mistake. I was initially very disappointed with the finishing. inside of the ring was not polished, milgrain wasn't super clean, and some other details made the ring look unfinished. I decided to not take the ring home and wait until the employee was back. She was wonderful and had everything taken care of. The stone removed, inside polished, other issues fixed, and the stone reset. I was very very happy with the final product. Really hoping my gf loved it as much as I enjoyed creating it.
(jeweler's sketch)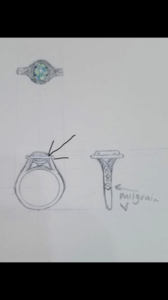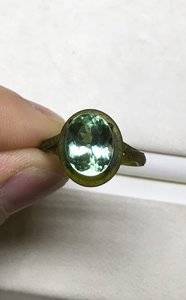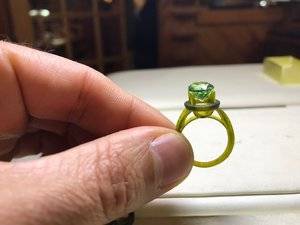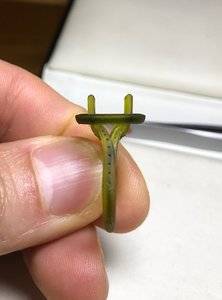 Well...I proposed last Saturday and although she was initially too overcome with emotion to even look at the ring lol she eventually saw it and was BLOWN AWAY! I was so soo happy that not only did she say yes but she is absolutely in love with what ended up as a very unique stone & ring.
Anyways... just wanted to share with you guys. I actually really enjoyed learning about different types of gemstones. The wait of 5-6 weeks of making a custom e-ring was tough though. As a guy, when you walk into the store, you are ready that day haha. Hope you guys enjoy the pics