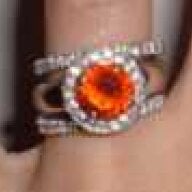 Joined

Feb 25, 2005
Messages

3,287
To herself.
She started this searcha few months ago.. once again... stone after stone after stone. The picture do NOT do it justice. She really outdid herself this time. IT is a 1 carat Amythest.. YUMM YUMM.. Told her I wanted to borrow it, she said NO. I just picked it up today, she did not know it was going to be done before Christmas... so it is going in her stocking.
Sorry about the bad quality pic, but the stone is soooo purple and just scumptous.. AWESOME light return!!!
It has a checkboard surface.. I just looked at the pictures... sorry the surface is filthy...
Enjoy though!!!