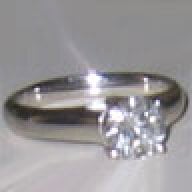 Joined

Nov 8, 2005
Messages

3,136
So, after months of me hinting at how much I would love diamond earrings, my sweet DH mentioned it out of the blue today! He asked if I'd like them for Valentine's Day! We are in major savings mode right now for our new house, but suggested maybe for my graduation from grad school this spring instead. We'll see. Anyway, I suspect the budget would be about $1000 or so, and my priorities are size and cut (of course!) I think H, I or J color would be fine and maybe SI1 clarity.
My real question is how important are certs and upgrade. I think if I got stones in the 0.5 tcw, I might want to upgrade. I think if I could get closer to 0.75 tcw, I would probably not want to. I'm not a flashy person and i think these would be a great size for every day.
A great value is the Ready Set to Go studs at
WF
, but I know that you do not get certs or an upgrade policy. I'd be interested in these:
http://www.whiteflash.com/golden-wardrobe/Gold_Details.aspx?ItemCode=WFER-4R-Set&CategID=54
in the 0.7 tcw option. These cost $935 including the white gold basket setting.
Another option would be certed stones at
WF
. I did not see anything in my budget in their inventory, but I know they could bring in stones for me. But I'm sure there is a premium for the certs and the ability to upgrade later on, which I'm not sure I would ever use.
At
Blue Nile
, I am very interested in this pair.
http://www.bluenile.com/diamonds_details.asp?__fun_frm=i&pid=LD00996740&pid2=LD00999826&filter_id=6
With the settings, I'd be at $1126. I'd get GIA certs, a little more size, the ability to choose my own diamonds, but no upgrade policy. Even if these exact diamonds are gone by the time we're ready to buy, I bet I could find something similar. I've dealt with
Blue Nile
before and have been pleased, and I like their return policy (30 days.) I'm not interested in their preset studs because they use good or premium, but not ideal cut stones.
Are there other options that I should consider? Is it worth paying the premium for certs and/or the upgrade policy?
I need to get to a store to check out the size and color on me. There are just so few places around here that carry ideal cut diamonds. I tried on some 0.6 tcw recently and really liked the size.
I appreciate any advice!