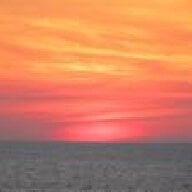 Joined

Sep 16, 2009
Messages

2,328
Have you ever been so mad about something you didn't react at the time and then fumed about it later? That's where I am at 4:30 am.

Victoria Secret is having their semi annual sale and that means sifting through bins of odd underwear that have been tossed around so they're no longer sorted in any logical way.

DH was at the Apple store, but decided to stop in and see what was taking me so long. I enlisted him to help me search at a large table across from a woman an her daughter.

The woman glared at him as he approached so I made a point of talking to him, touching his arm, etc so she would know he was with me. Didn't help at all. She turned to me and said "they really shouldn't let men in here.". I tried to keep it light and joked about how he doesn't want to be here either. We continued shopping like nothing happened. She then turns to me again and says that DH needs to "back off" or she's getting security. Meanwhile he is across a table from her and her daughter. He's nowhere near them and actually couldn't even hear her with the music in the store. She goes on about child molesters"touching" her daughter's underwear. Ummm what? He's picking up the odd pair and showing me, but that's it. We're not even looking for the same size or style as her daughter. Even so who cares? Wash before wearing.

Rather than make a scene I just grabbed DH by the arm and walked to the cash.

Now I'm really mad that I didn't stand up to her. He had every right to be there. What if he was shopping for himself? How is any of this her business?

Grrrrrr.