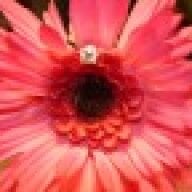 Joined

Sep 18, 2006
Messages

165
Last month during our trip to San Diego I ordered a Memoire wband from Robbins Bros. ( 7 stone, 1.0 ctw, 18K WG, G/SI2 - Diamondseeker, your Memoire band was my inspiration!

) They said that it would take about 6 weeks for them to get if Memoire made it ''from scratch'' in my size (4.5) - I didn''t want to size down their stock ring because it turns oval-shaped if it''s sized down too small.
Well, we were expecting it to arrive at the store in San Diego yesterday, but today my sales lady called me and said that she got an email that
the ring did not pass quality control at the main Robbins Bros. store so they returned it to Memoire to be re-done.
I would not get it until the second week of December. I was jsut wondering, Memoire has a fantastic reputation of making everything in "perfection," so why would things like this happen? It just sounds so weird to me.
I don''t mind waiting another 2 weeks because I''d rather get a better-quality ring, but I have been waiting
patiently
for my Memoire band for 6 weeks now!

Any similar experiences with Memoire or Robbins Bros.?
Also, a friend mentioned that maybe this a good time to ask for a discount - what do you think? The saleslady offered to ship it overnight rather than their regular 2-4 business days because she knew I have been waiting for this ring forever. She also gave us $150 dollars worth of gift certificates to apply towards the ring when I first ordered it. I don''t know if I should ask for additional price reductions on the ring.
Thanks in advance!