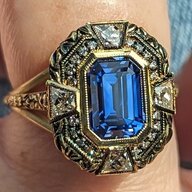 Joined

Jan 26, 2018
Messages

178
I wanted to introduce y'all to my dream upgrade! I've named her "Karma," since she's a "K" and reminds me of the song "Karma Chameleon," with her "red, gold and green" flashes everywhere! (Warning: once that song sticks in your head, it doesn't want to leave!)
A couple of years ago, I bought a .81 ct K
ACA
with the plan to upgrade gradually to a 2 carat by my 15th anniversary. I was actually able to do it two years earlier than expected, and I am just over the moon excited! This isn't an engagement ring, since I wear it on my right hand. (I am sooooooo sentimental about my wedding set!) Karma is what I call a "Happily Ever After" ring and, boy, does she make me happy! She's a solitaire for now, but she may change to a three stone in the future.
I had one upgrade between the .81 and the 2 carat: a 1.377 K Expert Selection that I got just before Christmas last year. (I'm so sorry I didn't post pics of that one. Things were just so crazy!) But when the opportunity to upgrade to this spectacular
ACA
came along, I took it. I was able to use the same setting throughout the upgrade process and just swap out the head.
A note of advice to those who are considering this starter super ideal and upgrade process: check with your sales associate at the beginning, when you first select your setting, and make sure you can reuse it. It's still a few hundred dollars to swap out the head, but definitely less than a whole new one.
The service at
Whiteflash
was, as always, phenomenal, and several people deserve shout outs. Liza is always so patient, responsive and helpful and just plain fabulous. She shares my joy whenever I buy anything and I so appreciate it! Vera kept me so well-informed, and she pretty much held my hand during the upgrade process. And, finally, Marcela, who always takes such amazing and artistic pics of my jewelry. Her work is breathtaking! Thank you so much,
Whiteflash
!
I also want to say "Thank you" to
@Julyisjuly
and
@Lykame
here on Pricescope. Your videos were SO helpful and fabulous! I may not have mentioned it in your threads, but I want you to know that your journeys gave me the really important visuals that I needed and didn't see anywhere else.
I got the ring last Saturday. Of course, I knew it was coming, but I wanted my hubby to surprise me with it. And he DID, with a surprise scavenger hunt! He even rented out a PO Box to put a clue inside. THAT clue was a jump drive containing a video of him to lead me to the next location. I felt just like Jason Bourne!
Let me just say that, of all of the K's I've had, THIS is the whitest one. I have to look closely to see color. I was a little scared, with it being a larger stone, but she is just GORGEOUS! We both thought I might have gotten the wrong diamond, she is so white! I am thrilled. She truly is my dream diamond!
So, without further adieu, meet Karma! (I did a little photo shoot with my anniversary flowers. She's very photogenic, even with my terrible photography skills!)
2.091ct K VS2 in
Whiteflash
Classic 6 Prong Solitaire in Platinum, size 6
Depth % 61.3
Table % 55.5
Crown Angle 34.6
Star % 50.0
Pavilion Angle 40.7
Crown % 15.3
Lower Girdle % 77.0