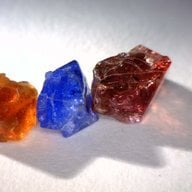 Joined

May 26, 2009
Messages

2,218
So....it's been a long time since I posted....and....I am sure you guys missed my "......." sentences, LOL(cough...cough...Kenny
)
I hope everyone has been doing okay. LD, TL, Harriet, Arcadian, Minousbijoux, and anyone else I missed....you guys been keeping on top of things in the colored gem world?
I miss getting the scoop from the folks over here on PS. I have no idea what has become hot or fashionable these days. What new finds have occurred. What things have dried up....etc.
Do you guys ever see any of those good, sleepy, red and pink mahenge spinels? They still coming out?
Boy, if all of us here on CS PS, had invested in them puppies when we first took note of them when the market was fresh, years back, we would all be rich by now!!!!! LOL
I skimmed a couple threads, looked back some pages, and scanned for my favorite topics....and I was surprised at the number of Paraiba threads there are.
What is the deal with all the cuprians? Has Mauvco suddenly rose from the ashes like a phoenix and is producing more material?
Where are all these cuprians coming from? Mulungu Mine start hitting some good areas? Back in the ole "Heitorita" zone at Batalha?(color not good enough for that


)
Old stock being sold?
Old stones being resold?
Uh-oh......maybe Robert James was right all along, and they are diffusing Cu into stones.


j/k
I figured that as long as I have been away from stones that Paraiba's would have dried up by now? Glad to see them still around.
The topic of this thread has to do with blue. Reason being, I recently acquired some stones that the ole pro's on here may recall. I sure coveted them back in the day, but was never able to get a hold of any.
Forgot about them until here recently.....
Those fantastic "Hauyne-blue" cobalt bearing spinel from Luc Yen. AKA...Jedi spinel.
A windex-like color, with very little, to no tone!
I scooped up a couple small rough stones to keep for myself, but I also plan on sending one for a spectra, and/or having a few looked at with the microprobe....to get a nice quantitative set of numbers and reference...like I used to with Paraiba material
Knowing how I love chromophores, thanks to cuprians and emeralds of course, I really took a liking to cobalt. This has really been since Vincent published his work on the "jedi windex" stones.
I actually bought my first cobalt bearing blue spinel gemstone a couple years prior to that..... from Sri Lanka if I remember correctly...... over on the old selling page at GO.com. It's one of those purchases you don't do without the lab report in hand...LOL.
Hopefully I will have those test taken care of in a month or two. Not much free time with work being so busy these days.
I wanted to compare different blue colors in gems and crystals from my past post, and previous pictures of mine, as well as others, that really jumped out at me. Thought it might be fun since I am discussing these spinels.....
First, here are a couple quick pictures I just took of some healthy looking, Luc Yen, cobalt bearing spinel rough crystals. The two single pieces weigh 2.14ct and 1.89ct, respectively.
The pic with the multiple stones in hand, shows the one on the bottom left displaying much more gray(grey) than the others. You can't really tell in the photo, but it's a classic octahedra shape. The best color pieces are the three in the middle. They all have prismatic, crystal faces on at least one or two sides.