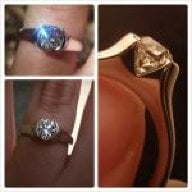 Joined

Oct 2, 2008
Messages

4,946
I'm working with a local rescue and have been matched with this little cutie. We're doing a trial overnight tonight to see how she does with my darling boy cat, Darwin.
She's a miniature schnauzer, maybe a mix, about 25 lbs. She's the classic salt/pepper coloring, about 8 years old. SOOOOO sweet, docile, passive, quiet. Total couch potato...getting along with me and the cat.
Name suggestions? Her name (given by the rescue) is Sabrina, and they call her Bree. Problem - that's my name, hah.
I had a list of names ready to go but meeting her, none of them seem quite 'right'. I tend to prefer people names for pets, and 2 syllable names for dogs. Googling for renaming pets suggests keeping something with the same ending sound. She responds to Bree, so anything ending in the y, ie, ee, sound should be relatively easy to transition.
I have some friends on FB giving suggestions too. They've given lots of choices, but none that are really sticking out to me.
The one name I can think that she looks like is "Cindy". They don't know a lot about her history, but they think she lived on the streets for awhile. She was picked up by the rescue from the county pound, set to be put down on Tuesday (she was picked up on a Saturday). She was very uninterested in everything when they got her, but now, 2 months later she's a whole new dog with a new lease on life.
Seems like she may have found her furever home
...now she just needs a name.
Thoughts?
TIA!
ETA: Notice the cat relaxing on the ottoman in the background of her "close up"