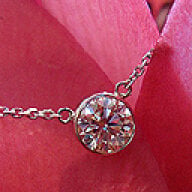 Joined

Oct 30, 2002
Messages

31,003
MINE, a friend suggested to me that when you go to peel the tape off to keep the paint from coming with it to use a straight edge razor up against the edge of the tape then pull in short quick bursts, that should hopefully keep the paint on the wall and keep the straight-edge visual line for the paint to molding transition.

mind you I have not tried it yet so can''t say if it works but she swears by it and her paint jobs look great. hahaha.

Danielle, I know the colors are hard to imagine on a monitor....in the little ''sample'' can the DG looks beautiful but on the wall it''s just too stark. Maybe if I was doing more of a color with accessories in the room, but I''m going to keep it fairly simple so I think the lighter color is better.

Cleaned out the office and most of the guest room so hoping to get painting next week!! Greg is freaking out about me making a big mess (I''m kinda clumsy!!) so I will do it when he is not around...tee hee.