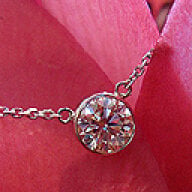 Joined

Oct 30, 2002
Messages

31,003
Greg's sister had to postpone her trip so that means I have an extra 3-4 weeks to fix up the house (which means I should really get off my ass and start painting and organizing upstairs). So today I went to Orchard (a smaller version of Home Depot here, more friendly/personable) and they have Easy Living, Dutch Boy and Martha Stewart paints. I don't love EL as I have tried it before and it's cheapo, not familiar with DB but I did like some of the MS paint selection options, the guy said it was the most expensive too, big surprise. I must have a gravitational pull towards the most pricey thing in the store.

Anyway, has anyone painted using MS everyday paint? I'm thinking what is the quality here? I have used Ralph Lauren paints before which I really love, and we have Benjamin Moore in our house as well.

Problem is that I get really easily overwhelmed by paint colors with too many selections, but I was able to pull about 4 greens that looked promising from the MS paint options pretty quickly and 3 sand/dark yellowish/gold options as well. So I'm wondering if I just like the color selection should I just do it? I want a quality paint but I also need easy paint color selection, aka I can't have 50 'sage greens' to choose from and I like the ones I chose and seem like I could make an 'easy' selection this way.

Thoughts? And any experience with MS would be great too. I don't need the top of the line paint, just want it to look nice and go on smoothly.