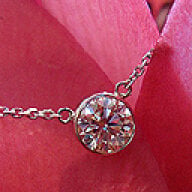 Joined

Oct 30, 2002
Messages

31,003
oh heather please post a pic of it on a sunny day!! that looks great!

i really do love dorset gold from what i saw on the home forum, but then i think it was on here (or maybe another thread on there) that people were saying it didn't look that great etc.

i am really torn between chestertown buff and dorset gold. this guest room is super sunny in the morning and bright the whole rest of the day which means that the paint on the walls gets lightened anyway, so i wouldn't mind a slightly darker color like DG that can be really warm and inviting at night but still bright and lively during the day.

it looks to me like the CB is a bit more mustardy yellow and the DG is a bit more brownish gold more like a darker dijon mustard? am i getting this right? hehe.