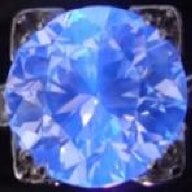 Joined

Apr 26, 2007
Messages

8,087
Okay, y'all - any idea how to get malware off my machine? Yesterday night, I opened (ironically enough) a jewelry website, and my browser promptly crashed and my screen started flashing a warning from the lower right toolbar. It keeps telling me that I'm infected with w32/Blaster.worm, and that I should run malware protection immediately.

Handily, a little icon titled "Malware Protection" has popped up in the newest icon slot on my machine. It's shaped like a trustworthy looking 4 colored shield, and when I click on it, it tells me 58 threats have been detected! And I should activate full protection now!

None of the files it lists are files on my C drive. It sort of scares me that spam is being written with the default assumption most people will presumably panic and download whatever the hell pops up on their machine and offers to make it all go away. I assume if I click anything positive, it WILL download further malware, and open the door to much badness. So, uh ... what are my alternatives?

So far, I have tried:

- closing the window; no luck, it pops up like the machine has the hiccups.

- rebooting, both as a restart, and as a hard reboot: it turns back on, but it won't let my computer do ANYTHING else, not starting the programs that usually get running at startup (chat programs, SpyBot, etc.)

- running Avast, which it will allow ... but Avast says everything is fine (liar!)

- running SpyBot, but it won't LET SpyBot open.

ARGH. I am a LUDDITE, I am not MEANT to deal with this sort of thing. Pout.

Any of y'all who are more 'net-savvy than I am (read: any three-year olds who read PS) got any suggestions?