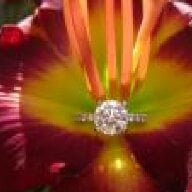 Joined

Jun 25, 2010
Messages

11,025
so last night I sat down and took a look at my expenses. I hate cooking, preparing meals, and packing a lunch- I also buy on average 3 cups of coffee a week. My FI is away on average two nights a week and those nights pick up dinner for myself. By doing some calculations I figure I spend around 2,800 a year on my lunches, coffees, and dinners for myself!!! Not to mention the food that gets uneatten and tossed from our fridge.
So I decided to set a goal for myself to eat better, save money, and allow myself a bling reward in the end. For every lunch I pack from home I can put 3.00 towards a bling fund, for every week I don't buy coffee I can put another 3.00 in the fund, and for every dinner I make for myself while FI is away I can add another 4.00 to the fund. By yearly calculations I will be able to save us 1,350 to bank, 1,350 for a bling fund, and eat healthier while I am at it.
Here's to a smaller a**, and a new beautiful assch for myself!

What bling goal/budget/reward have you set for yourself???