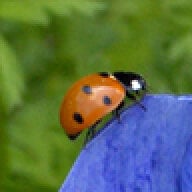 Joined

Jul 26, 2004
Messages

1,757
YAY!
Well, I know I have been completely MIA lately, but since so many people were kind enough to chime in on the
\"Great Magnet Border Debate of 2006\"
, I thought some of you might be interested to see how they turned out...
After hemming and hawing, I decided that I couldn''t live with the borders after all, so I sat down in front of the TV with my Fiskars rotary cutter and mat (and a metal ruler) and spent about 4 hours cutting them off. Now, I know that sounds obsessive, but I figure if this is the craziest thing I do as a bride, I am still in pretty good shape.

Plus, I was also partially focused on some Tivoed "Bones" episodes, so it likely took longer than it might have otherwise.

Needless to say, I am really happy with how they turned out! I owe a special thanks to Jaders, since the rotary cutter was her idea to begin with. Fortunately, I already had one, and even though I don''t remember the last time I changed the blade, the thing went through all 90+ magnets like a champ. If anyone ever needs to cut some magnets, I think this is the way to go!
I was really nervous to print them and mail them, because I was so scared that something would be wrong. Last year, I almost sent out bridal shower invitations with the wrong
city
, so now I am a little paranoid! I must have checked everything on these suckers about a hundred times. But I mailed them on Wednesday (only 2 or so months behind schedule!) and my FSIL called me yesterday (!) to tell me that they had gotten theirs and she loves it! I love that now this wedding is a reality for people other than FI and I!

Without further ado...Here''s the completed STD and envelope!
ETA: The bird doesn''t have much to do with this std, but since it is my "motif" for everything else, I had to include it somewhere!