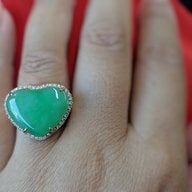 Joined

May 17, 2014
Messages

6,019
I normally hang out in the coloured stone section but this ring has been such a dream come true for me I had to show it off here.
I've always been in love with what is defined as the "wrong" padparadscha colour. I love the bright pink grapefruit hue. To me that's the ideal tone rather than the more pastel shade.
I've even been known to try and repeatedly wear this shade of lipstick!
A very kind and very generous friend passed this stone onto me from their collection. I can't believe I own it to be honest. It's such a difficult colour to buy without shifting brown or too orange or even a weird purple hue.
I'm normally a very economical girl when it comes to settings as I set a fair few stones. However this time I knew I had to do my long awaited colour justice so here it is............
TA DA